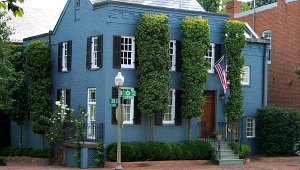 Georgetown is one of the oldest neighbourhoods in Washington DC and it's packed with attractive houses, tree-lined avenues and quaint shops. We'd recommend spending some time just walking the streets and you'll come across some lovely individual houses and beautiful terraces.
Georgetown's boundaries are the Potomac River on the south, Rock Creek to the east, Burleith and Glover Park to the north and Georgetown University on the west end of the neighbourhood, so it's quite a large area. The main shopping district is M Street which has fancy bars, shops and cafes but you'll also find smaller shops dotted here and there on roads nearby.
Georgetown is a very "green" area with parkland surrounding some of it, and the water front forming another border. This is particularly attractive around the Washington harbour complex on K street.
Other highlights in Georgetown include the Old Stone House, built in 1765 and located on M Street. This is the oldest original structure in Washington, D.C.
You can also visit Georgetown on the Washington DC Guided Day Tour which consistently gets great reviews from other travellers.
LOCATION & MAP
It's not simple to get to Georgetown as the Metro lines don't reach here, but we got off at Rosslyn and walked. There are further directions here. Another option is the Washington DC Hop-on, Hop-off Bus Tour which stops at Georgetown.
MORE ON GEORGETOWN
Washington DC Guided Day Tour – Visits Georgetown
More Things To Do In Washington DC
Hotels near Georgetown – Great rates from Hotels.com
Georgetown – Official Website
Georgetown – Wikipedia
M Street – Wikipedia
Washington DC Guide Books – Amazon.com
Washington DC City Guide – From our sister site, Free-City-Guides.com