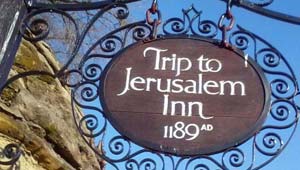 Ye Olde Trip To Jerusalem is Nottingham's most famous pub. It's also reputedly England's oldest inn having the date of 1189 painted on the outside although this is disputed in other parts of the country. Whatever the accuracy of this claim, it's a fascinating place to visit and you shouldn't overlook it.
The historic look of the building continues inside where you'll find a number of "rooms" to sit and drink ale in. You feel like you're going back in time, although the prices are definitely from the modern world! Also, from the outside, the size of the pub is deceiving because it is carved into the castle rock behind to add extra space.
The unusual name is reputed to come from Richard the Lionheart's crusade against the Saracens who occupied the Holy Land. Crusaders are reputed to have stopped at the foot of the castle rock for drinks before journeying to Jerusalem.
You'll find plenty of tourists in the pub, but locals drink here too. In the summer months you can enjoy some traditional English ale in the beer garden and on a warm evening there's a lovely atmosphere. You'll find "The Trip" as it's affectionately known at the foot of the rock below Nottingham Castle next the Museum of Nottingham Life in Brewhouse Yard.
LOCATION & CONTACT
Address: Ye Olde Trip To Jerusalem, Brewhouse Yard, off Castle Road, Nottingham, NG1 6AD
Tel: +44 (0) 115 947 3171
MORE ON YE OLDE TRIP TO JERUSALEM INN
Ye Olde rip To Jerusalem Inn – Official Website
Hotels near the Trip To Jerusalem/Nottingham Castle – We recommend Hotels.com for the best rates
Park Plaza Nottingham – Our recommended Hotel in Nottingham
Ye Olde Trip To Jerusalem – Wikipedia
Books on Nottingham – Amazon.co.uk
Nottingham City Guide – From our sister site, Free-City-Guides.com