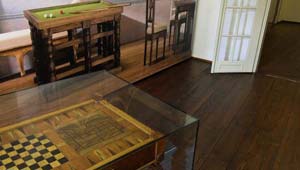 Mozarthaus in Vienna as a grand city centre apartment which was Mozart's home for around 3 years. He actually lived in a number of different apartments in Vienna, but this is the only one which still remains.
He did live here longer than any of the others though and called this building home from 1784 to 1787. He also composed some of his most famous works in the apartment's rooms, most notably the "Marriage of Figaro". Strangely, it was also the former home of Strauss and he wrote the "Blue Danube" waltz here.
Today Mozarthaus is filled with Mozart and Strauss memorabilia spread over 6 levels. You'll be led round the museum and apartment rooms by an audio guide which is included in the admission price. This really helps to set the scene, is really informative and music is a significant part of the guide too.
We enjoyed the museum as a whole, but particularly the apartments laid out as Mozart may have had them. We also liked the way the building has been modernised with some parts ultra modern in design but still complementing the original apartments that Mozart lived in.
Mozarthaus is open daily from 10am to 7pm. Adult admission is 10 Euros (2012 prices). Discounts are available for children, groups and families.
Mozart's House is just behind St Stephen's Cathedral on Domgasse.
To experience Mozart's music as it was meant to be heard, a popular activity in Vienna is the Mozart Concert in the Musikverein which includes historic costumes and wigs!
LOCATION & CONTACT
Address: Mozarthaus, A-1010 Vienna, Domgasse 5, Austria
Tel:+43 1 512 17 91
Email: info@mozarthausvienna.at

MORE ON MOZARTHAUS
Mozarthaus – Official Website
Hotels near Mozarthaus/St Stephen's Cathedral – We recommend Hotels.com for the est rates
Mozart Concert in the Musikverein – Experience Mozart's music as it was meant to be heard
More Things To Do In Vienna
Vienna City Guide – From our sister-site, Free-City-Guides.com