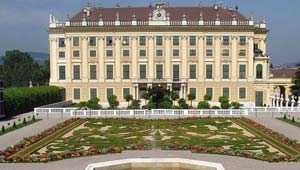 Schönbrunn Palace, just outside Vienna, was the pinnacle of luxury for the Habsburgs who ruled Austria for centuries. From the outside, it's a striking yellow colour and seems to stretch across a large area from one end to the other. Inside, it's a real treat.
There's no doubt that it's one of the most important cultural monuments in Austria and ranks well against other European palaces like Versailles near Paris. The audio tour of the building is fascinating and the rooms seem to go on endlessly!
There are two tours you can take, the first is the shorter "Imperial Tour" at 10.50 Euros including the audioguide which takes in 22 rooms. We'd recommend the longer "Grand Tour" though at 13.50 Euros including your audio guide (2012 prices) which takes in 40 rooms. There is also the Sisi ticket which gives you access to both Schonbrunn and the Hofburg in central Vienna.
Outside, there's plenty to see too with impressive gardens, packed with flowers in the summer months. Make sure you walk up to the summer house on the hill to get a great view. At Christmas there is often a large craft market at the front of the palace.
For an extra special experience at Schonbrunn, there are a number of events you can attend to get the most out of your visit to Vienna: Latest Prices for Schonbrunn Tours & Experiences.
Schönbrunn Palace is open daily from 8.30am, closing at 5pm in April, May, June, September and October, 6pm in July and August and at 4.30pm from November to March. It's a short Metro ride from Vienna city centre. We could have spent an entire day here and it's the place that sticks in our minds when we think of Vienna.
LOCATION & CONTACT
Address: Schönbrunn Palace, Schönbrunner Schlossstrasse 47, 1130 Wien, Austria
Tel: +43 1 811 13-0
Email: info@schoenbrunn.at
If you don't want to take the Metro, another option is the Vienna Hop-on, Hop-off Bus Tour which stops at Schonbrunn Palace

MORE ON SCHONBRUNN PALACE
Schonbrunn Tours
Schonbrunn – Official Website
Schonbrunn – Wikipedia
Schonbrunn – Unesco
Hotels near Schönbrunn – Great rates from Hotels.com
Vienna Hop-on, Hop-off Bus Tour – Stops at Schonbrunn Palace
Vienna Guide Books – Amazon.co.uk
Vienna City Guide – From our sister site, Free-City-Guides.com