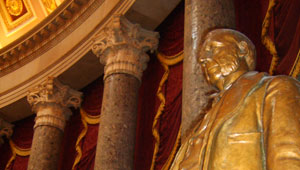 This is another huge Washington landmark and it'll take you a while to walk all the way around the outside. Free timed tours inside are available by picking up a ticket from the new Visitor Centre. It's fascinating to see inside, but you don't get to see much of the building on the tour unless the houses aren't in session. We think you'll get most out of this tour if you have a real interest in US history, you may be a bit bored if not.
If you haven't booked online in advance here, then you'll need to get a same-day ticket from the Information Desks at the new Capitol Visitor Center. To make sure you get tickets, arrive in the morning shortly after the ticket booths open at 8.30am. You'll then need to come back for the time on your ticket. At peak summer times the tickets go fast, but at other times of the year it can be a quite a few hours before they all go.
The tour itself has changed since the updated visitor facilities were introduced. You'll have a headset to hear your tour guide, who will take you into several areas of the Capitol. You'll spend some time in the central area under the dome where you hear a full explanation of how the building came about and the importance of the artworks and design. After this you'll go to the statue room and hear about the statues and their connections to the various US States. If the politicians are not in session, you may also be allowed access to the debating chamber, but this was not available when we took the tour. The tour ends on the lower floor where there is an exhibition space. You'll need to allow around an hour for your visit. If you don't want to do the tour, you can visit the Capitol Information Center for free, Monday to Saturday from 8.30am to 4.30pm.
Location & Contact
Address: United States Capitol, 100 Constitution Avenue Northeast, Washington, DC 20002, United States
Tel: +01 202 226 8000

More on the US Capitol
Washington DC City Guide – From our sister site, Free-City-Guides.com
Washington DC Guided Day Tour – Stops at the US Capitol
Washington Segway Tour – Travel in style past the US Capitol!
Hotels near the US Capitol – Great rates from Hotels.com
VisitTheCapitol.gov – Official website
Wikipedia – US Capitol
More Things To Do In Washington DC – From our Tours & Activities pages
Washington DC Guide Books – Amazon.co.uk (UK)
Washington DC Guide Books – Amazon.com (US & Canada)