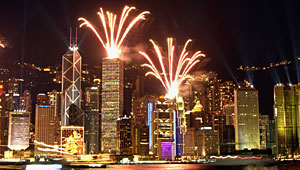 This is one of the most impressive free light shows you'll see anywhere in the world. Every night at 8pm, 44 buildings on both sides of the Victoria Harbour in Hong Kong synchronise their lights and show off lasers in time with music. You'll need to be on the harbour walkways on either side of the harbour to hear the music and get the best view of the lights. In peak tourist season when the weather is fine, the walkways can get very busy, but there's a lovely atmosphere and plenty of people around with stalls of souvenirs or cameras to catch your picture in front of the Symphony of Lights.
Each building takes its turn at first, introduced by the audio on the speakers, before the full show demonstrates how good they all look together. There are 5 themes that are used during the shows. They are "awakening", "energy", "heritage", "partnership and the finale is "celebration". We watched two of the 5 shows and although they are different, they are not so different that you need to see each one! Basically, the music changes and the order in which the buildings take part is different, but the lights and lasers are the same. On very special occasions, fireworks are included too. The shows have been running since 2004.
The show is organised by the Hong Kong Tourism Commission and the narration is in English on Mondays, Wednesdays and Fridays. We think the best view is on the Avenue of Stars (shown on the map below). To see the show from a boat in the harbour, check out prices for the Symphony of Lights Harbour Cruise.
Location and Contact
Best Viewing Location: The Avenue of the Stars, Tsim Sha Tsui, Kowloon, Hong Kong, China
Tel: +852 2810 2770
Email: tcenq@cedb.gov.hk
More on the Symphony of lights show
Hong Kong City Guide – From our sister site, Free-City-Guides.com
Symphony of Lights Harbour Cruise – Click for latest prices
More Things To Do In Hong Kong
Symphony of Lights – Official website
Symphony of Lights – Wikipedia
Hotels near Victoria Harbour in Hong Kong – Best prices from Hotels.com