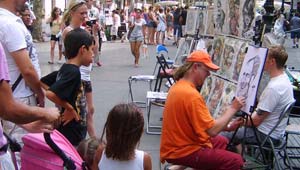 La Rambla is quite definitely Barcelona's most famous street and has become a tourist attraction in its own right. It's a wide open pedestrianised walkway which runs through the centre of the city from the harbour to Placa Catalunya. The whole street is around 1.5km so it's not too taxing to walk along it all. On the way, not only are there dozens of shops one either side of the street, but La Rambla is also packed with a combination of street artists, street entertainers, eateries, and stallholders.
There is a saying that you can just about anything on La Rambla and as you walk along the street you can see why. Everything is on sale from newspapers to live chickens! Because it's such a busy street, there's always a good atmosphere too and we really enjoyed just walking along it with the family.
The street is on a slight hill, but it's so slight that it doesn't really matter which way you walk it. However, you're probably not going to want to walk all the way back so plan your visit accordingly. Nearest metro stops are Dressanes for lower La Rambla, and Catalunya for the top bit of the street.
Whether you start or end your journey in Placa Catalunya, it's worth spending some time in this giant public space. There are plenty of café's to sit out and watch the world go bay and the impressive fountains are almost hypnotic.
LOCATION & MAP
La Rambla runs from the harbour up to Placa Catalunya in central Barcelona

MORE ON LA RAMBLA
Hotels near La Rambla – Best prices from Hotels.com
More Things To Do In Barcelona
La Rambla – Wikipedia