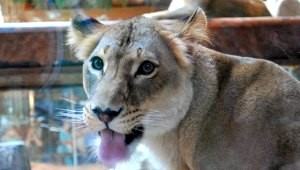 ***This attraction has now closed, but we've left the review on the site as piece of history***
The MGM Lion Habitat is a free attraction in Las Vegas located inside the MGM Grand casino. At the edge of the casino floor, right next to slot machines and gambling tables is a glass enclosure and the lions appear each day inside it.
The lions are actually kept on a large ranch outside Las Vegas, but different lions come on different days to spend a few hours in the habitat which has been specially constructed for them. It has running water, fake trees and is climate controlled to be the perfect environment for the lions while they watch the casino gamblers.
The best time to see them is at 11am when the lions first enter the enclosure as they are generally much more active at this point, but the enclosure is built so that you can pretty much always see them, even if they are sleeping.
When the habitat is open, there are walkways underneath the enclosure walled with glass so you can see the lions inside. The walkways end up in the lion gift shop. The walkways are quite narrow and when they first open it can be quite busy – there is often a line to wait in before walking through.
The lion habitat is occupied from 11am until 7pm daily. At other times, you can still see inside, but there is only the habitat itself to look at.
LOCATION & CONTACT
Address: MGM Lion Habitat, MGM Grand Hotel & Casino, 3799 Las Vegas Boulevard South, Las Vegas, Nevada 89109, USA
Tel: +1 877 880 0880 or +1 702 891 7777
The MGM Grand is located on the strip opposite New York New York. It has its own Las Vegas Monorail stop at the rear of the hotel.
MORE ON THE MGM GRAND
More Things To Do In Las Vegas
Stay at the MGM Grand – Best rates from Hotels.com
MGM Grand – Official Website
Wikipedia – MGM Grand page
Top 10 Free Things To Do in Las Vegas – Features to Lion Habitat at MGM
Las Vegas City Guide – From our sister-site Free-City-Guides.com